One of my favorite bloggers,
Addie Zierman
, has a new book coming out
today
! It's called
When We Were on Fire
, and I'm
really
looking forward to reading it this week. I've never met Addie in person, but I think we'd have quite a bit to talk about over coffee. We church kids tend to have our stories about our years of certainty, our years of questions, our searching out of peace. There's no formula to it (many church kids are highly suspicious of formulas and for good reason) but a lot of us have experienced a similar trajectory with different details, and I find that fascinating and also comforting. This post is part of a
synchroblog happening over at Addie's blog today
, and my attempt to examine some of the areas surrounding my own
on fire
time.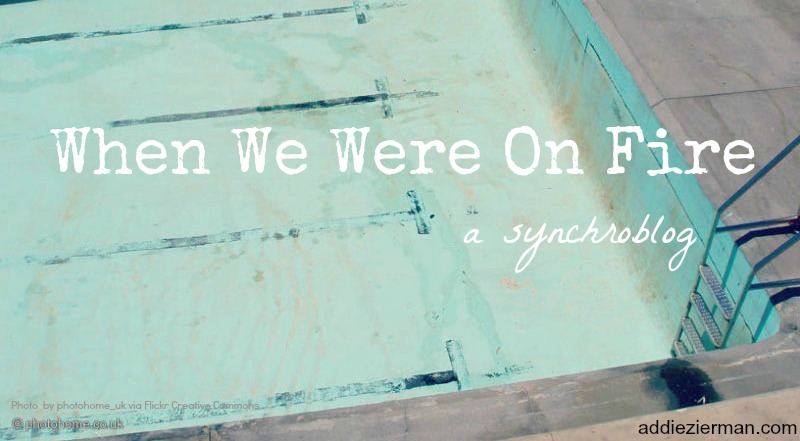 I grew up in a small church with plenty of Pentecostal spice: no holds barred preaching, church twice on Sunday with a potluck often in between, women with big hair and heels and also women who didn't own a dress, testimony time, Campmeeting in the summer, songs about God on the mountain still being God in the valley. It wasn't an easy group to define by any means. I knew about community, and I knew about having a fire in my bones, how it felt to want to matter and make a difference in the world.
Many things have become harder for me to define now; I look back and see a mix of truly beautiful and special experiences, as well as ones that had unfortunate consequences.
Something I realize, looking back on my stories, is that
many of them involve a church van.
I'm thinking, too, that if you were a church kid in some variation, you may have a few church van stories of your own. Here are a few of mine.
Sunday School
My earliest memory of a church van (well to be specific, this particular one was a full-sized white school bus) was driving around with my parents, picking up kids for Sunday school. That my parents spent their Sunday mornings not sleeping in or even just making it in time for a service, but rather rising early to get the whole family ready for our bus route, is telling of their commitment level. It was to me at that young age (five? six?) and especially now as a parent of small children who sometimes finds it difficult to get everyone to church wearing shoes on both feet, or if I'm being honest, sometimes finds it difficult to get myself to church at all.
One of my favorite things about summer was our day at the river. We would load up early in the morning, in our Christian t-shirts and cut-off jean shorts, picnic lunches and coolers, towels and flip flops, drive off to a spot along the Gila River and swim the day away. When I was twelve, I decided I wanted to be baptized a second time in the river, because I felt I understood it all a bit better than I had at age seven. Several of us had made the decision to be baptized or re-baptized, and we all stood waist deep in a big circle as each of us took our turn.

I remember so well what it felt like to be surrounded by all that water, all those people, the tall canyon walls, to make a statement of faith and mean every word. Believe every word.

On the way home, a summer monsoon pounded down on the roof of the old van we affectionately called Rusty, and the inside part of the ceiling began to collapse down on us. We pushed our feet up against it, water dripping down onto our faces, laughing uncontrollably. To this day, when I think of summer, I think of that moment.
Safe
My youth group was returning home from a short mission trip. Our shiny new 18 passenger van had not only carried us to Mexico and back home, it also served as a place to sleep for all the girls on the trip (the boys made camp inside the cinder block church, their sleeping bags rolled out on the sanctuary floor.) We had painted faces, handed out food, shared our testimonies, worshiped with local believers, and of course the whole experience was peppered with teenage silliness and a bit of youth group drama. Tired, happy, and ready for our own beds and showers, we drove in the direction of home. In the last leg of our trip, those of us who were awake were deep into a theological discussion. There was a newcomer to our group, a tall lanky guy who had a lot of problems at home and sometimes got into trouble at school for things like flipping off the camera during the senior group picture and setting off smoke bombs in the hallway. He seemed really smart, and also sad. I liked him. As the conversation went on, he shared some of his questions about God and pain with the group; the sorts of questions we must all face if we're honest with ourselves. As we pulled into a gas station, one of the adult chaperons scolded him for his questions that she felt were disrespectful to God. He mumbled a quiet response and most of the group climbed out of the van to stock up on snacks and hit the bathroom.
He leaned forward, resting his crossed arms on the back of the seat in front of him, lay his head down, and sobbed quietly. My friend and I sat there in the dark, watching his shoulders shake. I knew in that moment that bullies can have the best of intentions, that showing up for church is incredibly brave for some people.
I managed to say something that I hoped was comforting. I still hope it was.
Whether its struggling with another day at school or handing out bags of candy to kids in Mexico, we bump up against ourselves.
Wherever you go, there you are.
I suppose I was learning that too; I just didn't have his kind of pain in my life. I didn't know yet what it meant to not feel safe at church.
Sold Out


Every summer, we loaded into a church van and went to camp. Camp was another of my favorite things, and I looked forward to it all year. We spent the days playing sports and silly games, and the nights in lively church services. Animated speakers would encourage and challenge us to be radical in our faith,
sold out,
to do BIG things for God. We would linger around the altar, soaking up that
feeling
and
praying for each other. It was incredibly intimate, I realize now. We weren't only praying for each other to have more faith or be more bold. We were praying over our deepest wounds and fears, too.
I remember feeling like there was something different in the air at camp. I would leave feeling excited to share my faith, connected to the people in my youth group as well as new kids we met, and just happy in general. A few weeks after returning home, though, I would feel the energy start to fade. It was hard to reconcile the intensity and energy of camp with the routines of high school life, but we weren't really supposed to compartmentalize these things. If you didn't bring Jesus into everything, you might be ashamed of him, and that seemed like pretty much the worst thing someone could be.
Once, one of those church vans drove us all out to a country graveyard. On the first day of high school, full of the hopes and schemes of a fourteen year old, a much-loved girl in our youth group had died in a head on collision, and we'd all been processing her death together, as best we could. We formed a circle around her grave and read from Paul's letter to the Corinthian church:
oh death, where is your sting? oh grave, where is your victory?
The plot was decorated with silk flowers and teddy bears, photos and crosses, and a light that her parents had installed. A soft row of trees stood in the distance, lining the same river we had been baptized in.
The van carried us back home, where life went on. We learned about grief: what it meant to smile at school and come home to a bedroom for a good cry, about praying through pain and dancing when the pain lifted, about honoring the dead by carrying on. That's the only time in my life I've walked through a season of grief with a group of people like that. I think about all that raw, consuming sadness coupled with just being a teenager, and maybe the reason we didn't all go under is because we had each other.
Sky
There was a ladder on the side of one of the vans, and sometimes we would climb up there and talk, watching the sun sink lower into the horizon of the vast New Mexico sky. I didn't know at the time, sitting cross-legged on top of that tan rusty van, pinks and oranges swirling all around us, that I was in soul-therapy. That vulnerability wouldn't come so easy as an adult. That I would wish for something,
anything,
like that one day.
Spirit
I look back now, and what stands out to me as real and timeless aren't the catchy slogans or the challenges to be bold or the attempts to be relevant to youth culture. What's precious to me now are the relationships: the girls who cried with me at the altar, the boys who chased us around the parking lot and took us mud-bogging and four-wheeling, the kind ladies who faithfully took out the felt boards every Sunday and told us about Noah, Moses, Deborah and so many other complicated biblical figures, the children's church leader who captivated us with her stories and taught us how to sing in the Christmas pageant, the people who made themselves available to drive a bunch of teenagers around in church vans. The potlucks and Sunday night singing, my parents in that big white school bus. The Spirit, the sense of wonder. That's the church experience I would love to pass on to my children, although I might save some of those Bible stories for when they're older.
I hope they have a youth group to be silly and sad and real with. I hope their questions are welcomed. I hope they get excited about their faith, and I hope they know it's okay to not be excited for a season, too, and that the small things are actually the big things. That what their friends who believe differently need most from them is a just a genuine friendship. That things like being
radical
and
bold
and
on fire for God
are temporary, and to place their faith in those things (like their mother did, for a while there) will end in disappointment, but that placing their faith in the God of all seasons will bring peace in surprising places.