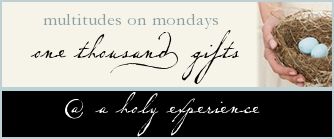 I'm reading a beautiful book right now- Ann Voskamp's
One Thousand Gifts
. There are so many tidbits of wisdom in it, that maybe I'll write some of my thoughts once I've had a chance to chew on it a little more....but for now I just want to start my own list. The central theme of the book is gratefulness, and what gratefulness can produce in our lives. Ann shares her process of starting a list of one thousand gifts from God that she encounters in everyday life, choosing to recognize these things as God's ways of showing us how much he loves us. The idea is to just note things as they happen, so here's what I see right now....
the camera that enables me to capture moments; I know that these will be so precious to me as time goes on
warmer weather that allows us to be outside more
Silas' little noises and coos, the way he smiles when he notices me
Coffee.....oh how thankful I am for it :)
I am grateful for quality kids' tv programs that allow Nicky to learn things in a fun and memorable way.
The way Nicky's face looks when he traces his letters
the notes and flowers Ricky's been leaving for me in the morning this week-single red roses with notes that read this coffee is for my wife, I like your blog, thanks for sharing the lappy, (laptop) I'm proud of you...
feeling thirsty and drinking water
the feeling of a soft sweater
energy/motivation to create, organize, beautify a space-there are so many times that I don't feel this that when I do, it's a gift
Nicky wanting to be wherever I am....sometimes I just want to be alone but then I think of how many times I have been lonely, and here's this bright little person who follows me everywhere....and this will not always be the case.
I think that is what I'm most grateful for right now-the knowledge that all of this is temporary-because that frees me to enjoy it. Being present for my children, right now, is more important and precious than anything else I can think of. I'm grateful to be realizing and reminded of this now, and not when it's too late.
Ann's blog, A Holy Experience, is
here
.